24.01. – 18.03.06
Jules de Balincourt
"Accidental Tourism and The Art of Forgetting"
Solo exhibition at Arndt & Partner, Berlin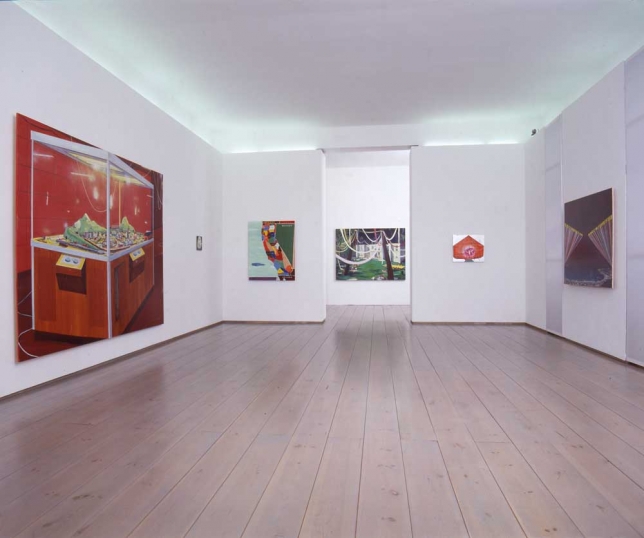 PRESS RELEASE
Arndt & Partner is delighted to announce the first solo exhibition of Jules de Balincourt and the inclusion of this new position into the gallery program.
For his first exhibition in Berlin, the French painter living in New York Jules de Balincourt decided to put a distance between himself and the United States of America. Not only by visiting the German Capital as an accidental tourist (see the quite ironic title of the exhibition!) but also by going deeper into his own little stories, trying to find a possible Art of Forgetting the country he lives in. Moving and travelling, for him as for many of us, is sometimes a necessary way to find the reasons that makes us work or live. So Jules de Balincourt moved to Berlin early July 2005 and spent time in a Friedrichshain studio, working on the brand new paintings that are now to be seen at the Gallery Arndt & Partner.
If the style of Jules de Balincourt's paintings is still recognizable: naïve figures in funny or absurd situations, brightly colored paint on partly visible wood, distorted perspectives that draw the viewer directly into the image and natural catastrophes mixed with rainbow look alike explosions; the artist distanced himself from the American history and political context which was more prevalent in his previous works. Except for two pieces: a map of the State of California displaying the possessions of the native Indian tribes that were living there (Another Map, 2005) and a portrait of a soldier from Checkpoint Charlie (Charly don't surf, 2005) taken from a famous photograph that is now to be seen there. But, within that image, America is already far away in time and space - it is not the country itself but its historical traces in Germany that are showed.
So, even if you recognize a little square with autumn trees that look like any exchangeable North American city park the recent paintings of Jules de Balincourt are much more about utopia or a specific state of mind than a vision of the USA. Like that breathtaking and quite monumental diptych (Diptych, 2005) representing a large piece of architecture coming straight out of the sixties (one can think of the various futuristic open-air stages based on the stereotypical Hollywood Bowl). Under a vast double geometrical shell, people hang around for an everlasting party and the sound that goes out from the loudspeakers is nothing but a rainbow including silver and gold. There is no real concert or spectacle, no audience, but a large community of people exchanging experiences in an exhilarating atmosphere. Like many of the seventies utopian architectures, it is all about community, social relationship and adventurous living. The building becomes a support to new adventures and possibilities, and the strongly focused and symmetrical perspective takes us directly into the plot.
Coming to Berlin to put some distance from his personal history and geography - in a world of colliding images and references - Jules de Balincourt's works are taking us to visit a Dreamland that doesn't exist anymore but persists in all of us.
Jules de Balincourt (born 1972 in Paris) studied at California College of Arts and Craft, San Francisco and graduated this year from the Hunter College, New York. He lives and works in Berlin and Brooklyn, New York, USA. His last solo show was on view at Zach Feuer Gallery (LFL), New York, and the next upcoming solo show will be shown at Musee d'Art Moderne de la Ville de Paris, France. Furthermore he was participating in numerous group shows as for example "Greater New York" PS1/MOMA, New York, "New Art", Ulrich Museum of Art Wichita, USA, and the Saatchi Gallery, London, will show his work within the retrospective "The Triumph of Painting, Part Four" in spring 2006.