NEDKO SOLAKOV "Optimistic Stories"
Opening: 11 June 2010
Duration: 12 June to 15 September 2010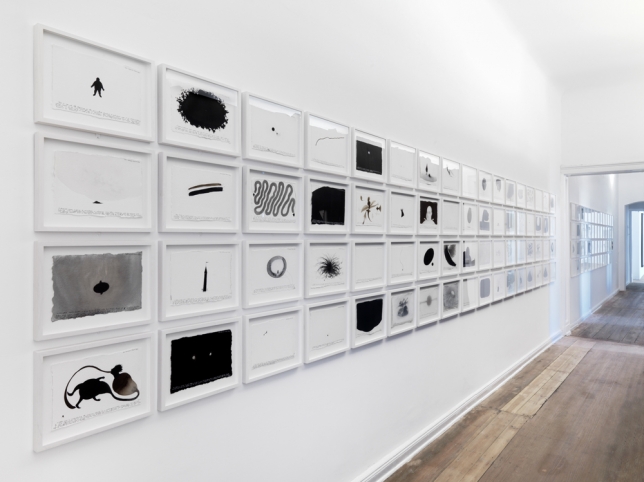 Nedko Solakov's work Optimistic Stories compasses a series of 123 sepia and ink drawings. His so far most comprehensive series of work, since the 99 Fears shown at documenta 12 that made a great stir, were done within several months and reflect on the crisis. The first drawing starts with the words: "This is me at the beginning of the crisis which started 5 art fairs ago. I'm still wondering what shall I do now…", dated on 16 December 2008.
Each story constitutes an ironic examination of optimism with its pessimistic surrounding. Personal experiences alternate with fictional and fabulous tales on the reflection of good vs. bad. All figures in the series try hard in loosing against the powerful negative influences. For the artist remains at the end only to wish good luck to his beloved people - a concession of helplessness against the evil in the world and the only dawn of hope that "the bad guys/things will ignore us".
Ever since the '80s, the Bulgarian artist Solakov has adopted a direct and often ironic artistic language, both in his large-scale installations and in his small-format drawings: the artist tells stories and anecdotes that reflect on details of contemporary life, narratives that sum up the contradictions of existence through the representation of situations, reflections, vicissitudes, expectations, successes and failures.
His regular participation in important exhibitions including the documenta
12 (2007), the Venice Biennial (1993, 1999, 2001, 2003 and 2007), the Moscow Biennial (2007), and the
Istanbul Biennial (1992, 1995, 2005) have made him one of the best-known international representatives of Bulgarian artists.