03.02. – 21.04.07
Nedko Solakov
"New Noah's Ark, Stupidity and the Wave"
Solo exhibition at Arndt & Partner, Berlin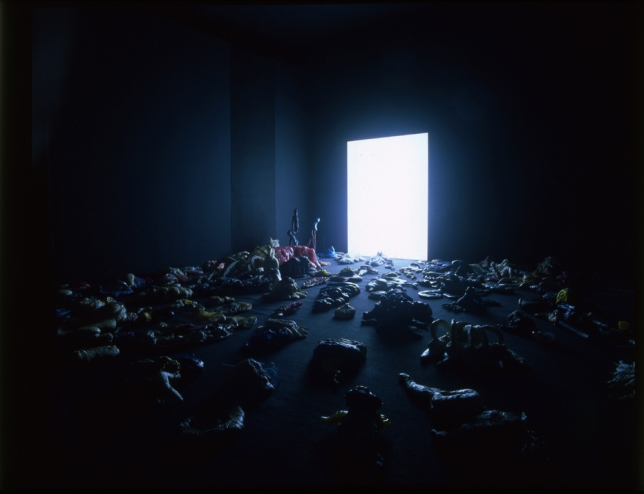 PRESS RELEASE
Arndt & Partner Berlin is delighted to present the fourth solo show of the Bulgarian artist Nedko Solakov in the Gallery 1st Floor.
The exhibition "New Noah's Ark, Stupidity and The Wave" will consist of the expansive installation New Noah's Ark (first shown at the Istanbul Biennale 1992), the Stupidity Series, one of his typical series of multiple drawings, and one of his characteristic icons: The Wave. All exhibited works present Solakov's unusual narrative approach, taking the visitor into the artist's own imaginative, ironical, and humorous cosmos.
Especially the central element of the "new Noah's Ark" does not seem of this world: a stream of obscure creatures meandering on the gallery's floor. In the installation, they are accompanied bya painting, a small stone with the inscription "ti" [You], twelve drawings of the ark, a strange sound of rushing water, and a book.
The book enlightens us that the creatures are stranded from an alien planet, on their way into another world and supposed to be rescued by an ordinary man (Noah), after having landed in his bathroom through the water pipes.
A humorous, satirical story with a Biblical reference, written at a time when Bulgarian and other communist societies had to redefine themselves after the political changes; a story which in view of Bulgaria's very recent joining of the EU is once again, or still, very topical.
As can already be seen in the installation New Noah's Ark, Solakov uses in his work various media, such as painting, photography, video, and drawing. Next to New Noah's Ark, the exhibition will also contain the 15-part Stupidity Series of 2006: small-format drawings, tiny pen strokes on handmade paper, which at first sight remind one of the Old Masters, but confuse the beholder with short handwritten text passages. The Wave of 2007 takes a similarly jolting approach, showing a curving Baroque frame and a stark square icon – easily bridging the secular and the sacred, also reflected by the text he uses.
Solakov's themes circle around mundane, seemingly nonsensical and also personal statements, the status of contemporary art, prevalent forms of viewing art, and the value system in general, and do so in a most lyrical way, usually taking a critical stance.