06.10. – 11.11.06
Nedko Solakov
"Earlier Works"
Solo exhibition at Arndt & Partner, Zurich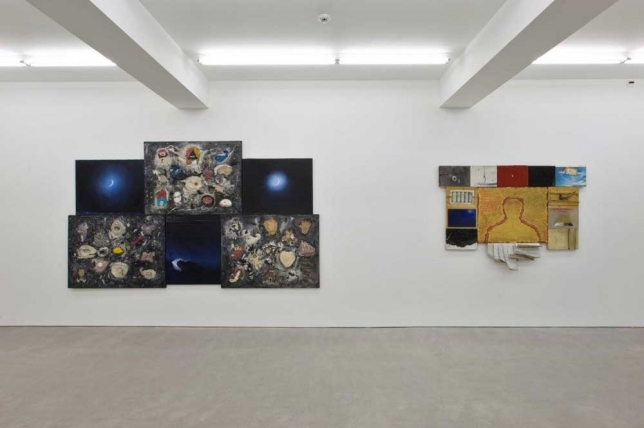 PRESS RELEASE
The Bulgarian artist Nedko Solakov has gained international recognition through his narrative multi-media installations. With a subversive humour, a sense of the absurd and a playful (self-) irony he is processing personal issues as well as formulating critical questions on the context of art, or social subjects.
In his solo show in Zurich he presents a selection of large format polyptychs from 1988 - 1991, which have rarely exhibited or documented up to now. The exhibition, accompanied by a publication with a text by Iara Boubnova, takes account of the fact that these works represent a decisive watershed in Solakov's artistic development. From 1988, the artist, who up to then had worked primarily with painting and drawing, turned to other techniques, such as assemblages and installations, and introduced written text as a means of expression.
The works, produced directly before and during the fall of the iron curtain, make transparent relationship between historical changes in society and the work of the artist being affected by them. In his polyptychs, frequently run through with texts, he combines old master style paintings with assemblages of found objects, or sketchy caricature drawings. He reveals a subtle satirical humour while tackling his experiences, fears and doubts in a time of political and social upheaval.
Nedko Solakov, born in 1957 in Cherven Briag, Bulgaria, is internationally the most well known artist of the younger generation of Bulgarians. He studied wall painting at the Art Academy of Sofia, where he has since lived and worked. Having participated in numerous exhibitions, e.g. at the Venice Biennials (1993, 1999, 2001, 2003), he has gained attention worldwide. He has held solo shows in museums such as P.S.1, New York (2001); Museo Nacional Centro de Arte Reina Sofia, Madrid (2003) and Kunsthaus Zurich (2005). His first retrospective was shown at Casino Luxembourg - Forum d'art Contemporain, Luxembourg, at the Rooseum Center for Contemporary Art, Malmö (both in 2004), and the O.K Centrum für Gegenwartskunst, Linz, Austria (2005).