06.05. – 18.06.2005
Christopher Orr
"Before and After Science"
Solo exhibition at Arndt & Partner, Berlin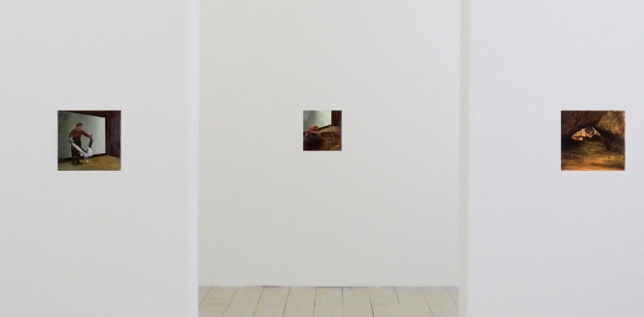 PRESS RELEASE
We are pleased to present our first solo exhibition with Christopher Orr at Arndt & Partner Berlin. Christopher Orr's small scale oil paintings move us to a world of spherical, enchanted landscapes in which the occasional inhabitants seem captivated by something unknown to the viewer. The idealised environment with its romantic references subtly contradicts the description of his realistic present-day people.
Inspiration for his paintings Christopher Orr draws from old books and science magazines like the National Geographic. Frequently he transfers parts of the found images to his paintings, maintaining their actual size. Passing on the responsibility for the scale in his paintings to his source material, he allows strangely fragmented imageries to develop, at the same time revealing his detachment from ideas of romantic entirety. Nature is represented in a condensed way, for example as supernatural light or uncanny mist, both possible expressions for a mystical or religious shiver. The object of attention remains disclosed to the viewer. An absence that expresses a contemporary uncertainty, as the unknown could be anything from the appearance of a UFO or a natural spectacle to an emptiness or something very trivial. Christopher Orr prefers not to spell it out.
The depictions focus on the observable inner distraction of his protagonists, who appear to be very much of this world. In their conscientious representations they are equipped with the awkward spirituality and charm of a petit bourgeois churchgoer and do not express any equivalent to the romantic hunger for the sublime beauty of nature. Christopher Orr does not try to negotiate this disparity. On the contrary, reflecting the inadequacy of man onfronting the world, he unfolds the full credibility and modesty of his works.
Christopher Orr, born 1967 in Scotland, graduated from the Royal College of Art, London, in 2003. He currently lives and works in London. He has presented his work in solo shows at Cohan and Leslie, New York and IBID Projects, London/Vilnius. Recent group shows include Bloomberg SPACE, London, Sister Gallery, Los Angeles, and ACME, Los Angeles. Later this year, his work will be exhibited in the group show "Ideal Worlds", Romanticism in Contemporary Art at Schirn - Kunsthalle, Frankfurt / M., Germany.
The exhibition at Arndt & Partner will be accompanied by a catalogue.